Evaluation and Treatment of Visual Flashes at
Chapel Hill Ophthalmology
If your eyes have been plagued by flashes lately, you need to find out why they're occurring and whether you need sight-saving treatment. You can get that care from either eye doctor on our team at Chapel Hill Ophthalmology in Chapel Hill, NC.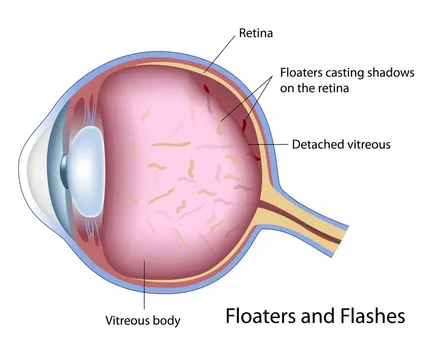 Understanding Why Flashes Occur and What They Might Mean
Flashes often occur alongside another annoying visual phenomenon known as floaters. The retinal tissue that lines the interior surface of the eyeball remains in close contact with a gelatinous "filling" inside the eye, called the vitreous humor. If the vitreous humor pulls away from the retinal lining a bit too forcefully, tiny bits of the retinal tissue may become dislodged and go floating through the eye's interior, creating specks or blobs in your field of vision. At the same time, the tugging on the retinal can activate light-sensitive cells, making you see sparks, bright dots, or jagged lines of light.
Sometimes, an impact to the head can jar the vitreous humor inside the eye to produce both flashes and floaters. More commonly, simple aging is the underlying cause. Over time, the vitreous humor loses some of its water content, forcing it to shrink away from the retinal lining and producing occasional flashes as a result. Some individuals also experience flashes in connection with ocular migraines.
While a few mild flashes pose no serious concern, changes in the patterns or severity of your flashes may signal a torn or detached retina which could lead to permanent vision loss without prompt care. If you notice a sudden "shower" of flashes, or if your flashes are accompanied by a dark shadow across part of your visual field, contact our clinic for evaluation and treatment.
Advanced Diagnostics and Care from Your Eye Doctor
Your eye doctor at our ophthalmology center can use sophisticated imaging equipment to see inside your eye with great accuracy and thoroughness, identifying tears of other damage that require treatment. If you do have retinal damage, we may use a surgical laser to close up a tear or other breach. A detached retina can be shifted back into its proper position through a couple of different treatment options. We may attach a scleral buckle at the front of the eye that nudges the vitreous backward, or we may push the vitreous against the retinal wall by inserting a gas bubble. We can even replace the vitreous with some other substance entirely.
Need an Ophthalmologist in Chapel Hill?
If flashes have promoted you to seek out an ophthalmologist in Chapel Hill, look no further than our eye care clinic. Call (919) 942-8701 today!